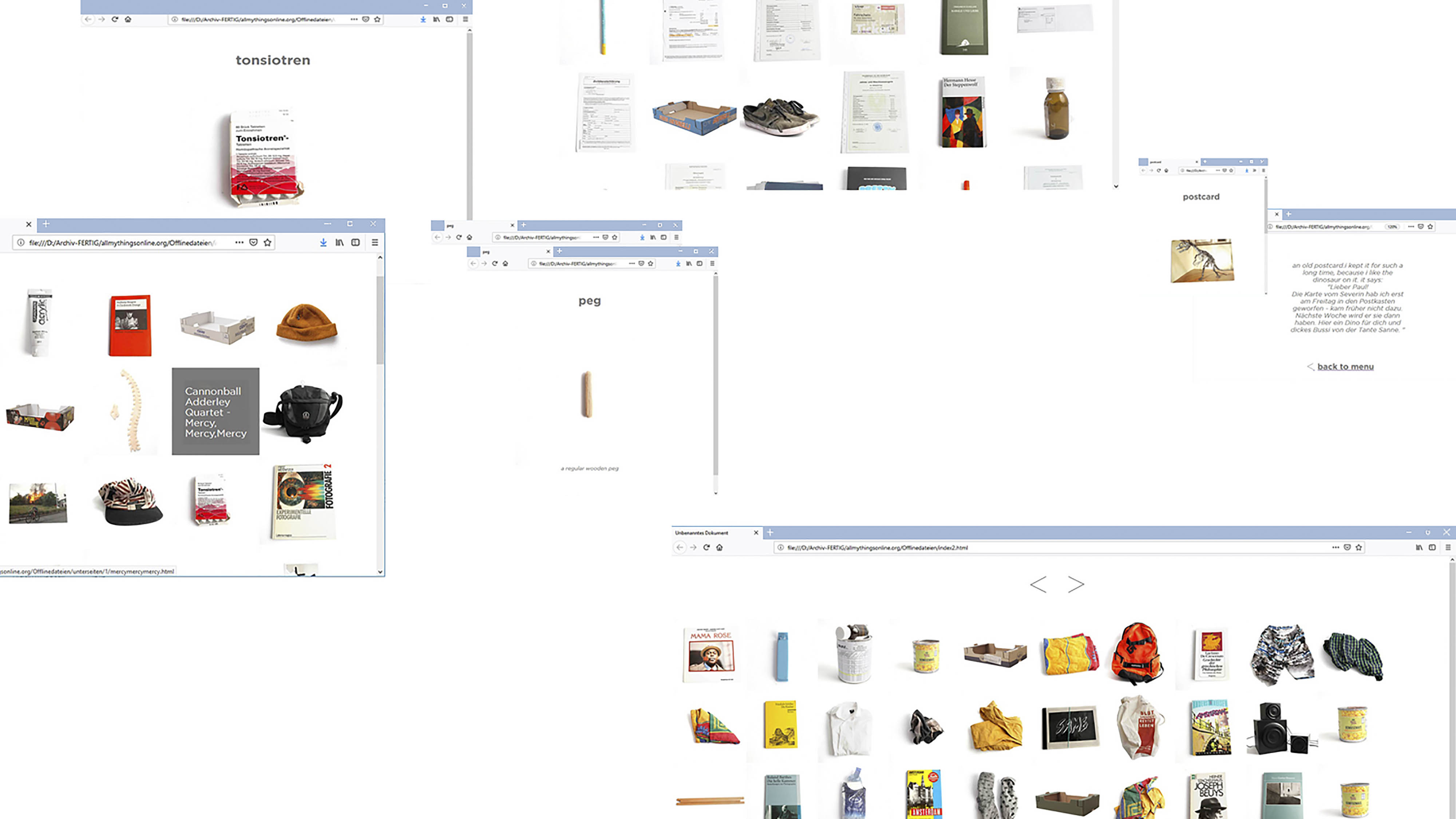 allmythingsonline.org
Interaktive Website mit ungefähr 1000 Farbfotografien
Ein in Europa lebender Mensch besitzt im Durchschnitt 10.000 seperate Dinge. Nach kapitalistischer Denkweise sind Gegenstände nicht ausschließlich funktionale Werkzeuge, sie sind Mittel zur Repräsentation, sie bilden und verkörpern die Identität der besitzenden Person. Manche Dinge finden Platz in Regalen, Vitrinen oder Instagram-Feeds, andere verscharrt man in Kisten unter dem Bett.
allmythingsonline.org war ein persönliches Experiment. Alle Dinge, die sich im Mai 2017 in meinem Zimmer befanden, wurden vor weißem Hintergrund abfotografiert und jeweils mit einer kurzen Beschreibung versehen. Das daraus entstandene Archiv wurde online der Öffentlichkeit zugänglich gemacht. Repräsentative Dinge wie riesige Poster oder meine Kleidung sowie Dinge, die ich vor meinen besten Freund_Innen verbergen würde, konnten so in einem möglichst neutralen Kontext durchstöbert werden.
allmythingsonline.org
interactive website with around 1000 color photographs
The average European keeps about 10.000 single things in his/her property. And especially in western capitalist thinking, many possesions are not mere functional tools, but also represent and embody the personality of the person owning them. Some of them are shown off in cabinets or social media feeds, while the more secret ones get buried in boxes or under our bed.
The webpage "allmythingsonline.org" was a personal experiment. All the things i owned in may 2017 were photographed in front of a white background and described briefly. The resulting archive was opened to the public. Representative things like clothing or huge posters aswell as things i would hide from my closest friends could be browsed through in a neutral environment.