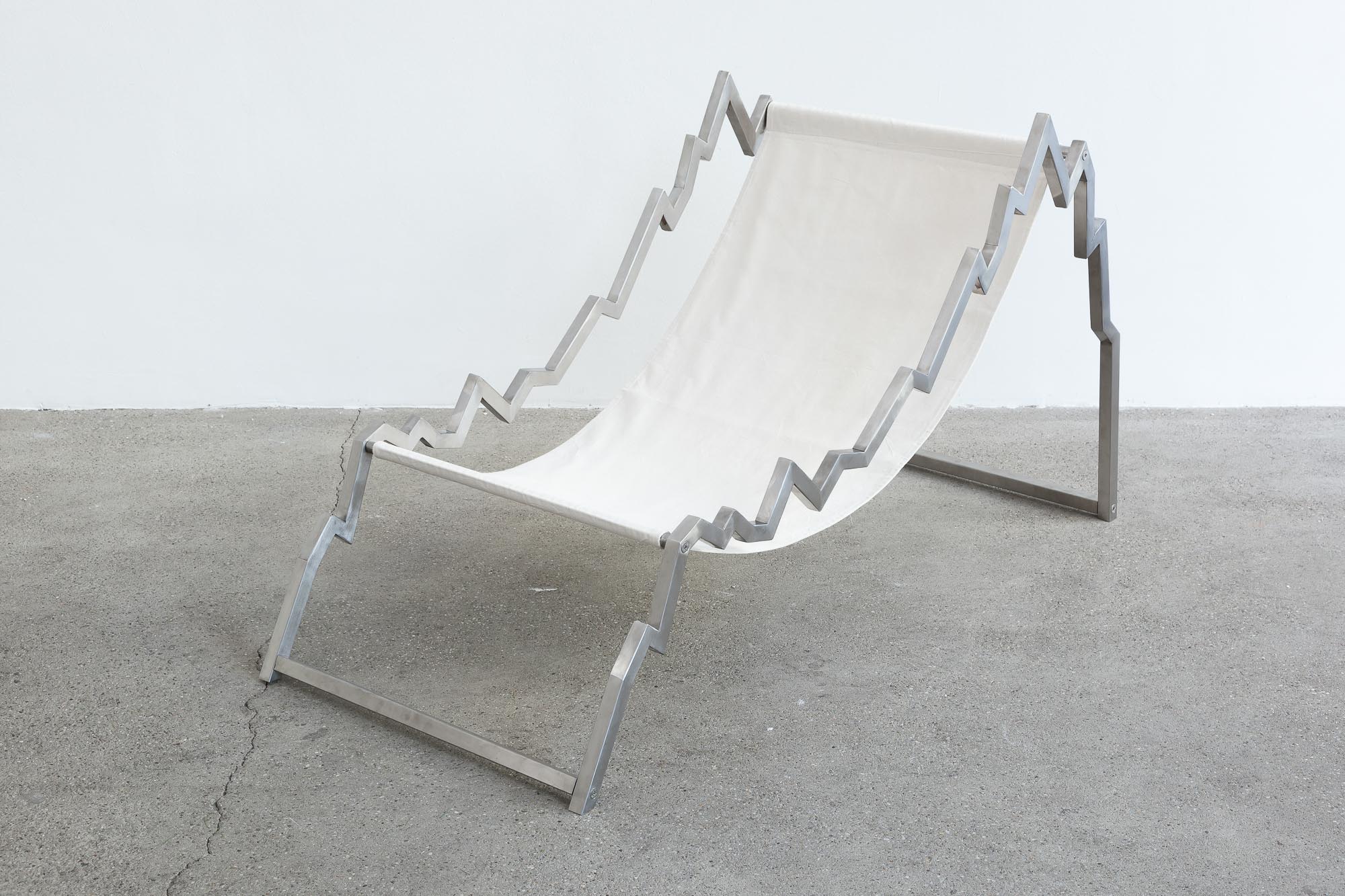 Downtime, 2020
Stahlrahmen, Leinen
Wirtschaftliche Krisen wie die, die wir gerade durchleben, werden oft als "kollektive Krisen" betitelt, obwohl sie grundsätzlich nur bestehende Ungleichgewichte innerhalb unserer Gesellschaft verstärken. Trotz der aktuellen "We're all in this Together"-Rhetorik, werden Existenzen zerstört, während privilegiertere Menschen die Krise nur mäßig spüren und andere sogar extrem davon profitieren. Aktiengraphen, die – abstrakt wie sie sind – die Lebensverhältnisse Vieler bestimmen, werden zu Sitzmöbeln, auf denen man einzeln verweilt.
Die Arbeit besteht aus 5 Möbelstücken, die jeweils mit einer der 5 größten Wirtschaftskrisen der näheren Vergangenheit, den Black Friday 1929, den Black Monday 1987, die Dotcom-Bubble, die Great Recession 2008 und die Corona-Krise 2020, verbunden sind. Die Form der Liegen ergibt sich aus den Kursverläufen von gängigen Finanzindices im Zeitraum der Krisen.

Photo © Galerie Elisabeth & Klaus Thoman /Flavio Palasciano

Downtime, 2020
steel, linen

Economic Crises, like the one we're in right now, are often referred to as "collective crises", although they only strengthen preexisting societal inequalities. In spite of the current "we're all in this together" rethoric, people lose their means of existence, while more privileged parts of society either don't mind the crisis at all, or even profit of it. Stock market graphs, that define the lives of many people turn into daybeds, in which you can only lay alone.
This work consists of 5 pieces of furniture that relate to the biggest economical crises of the last 100 years: The Black Friday 1929, the Black Monday 1987, the Dotcom Bubble, the Great Recession 2008 and the Corona-Crisis 2020. The shape of the deck chair is defined by the form of stock market charts during that time.

Photo © Galerie Elisabeth & Klaus Thoman /Flavio Palasciano